13 tata s društvenih mreža koji su nas raznježili
Ovi preslatki tate najbolji su primjer posebne očinske ljubavi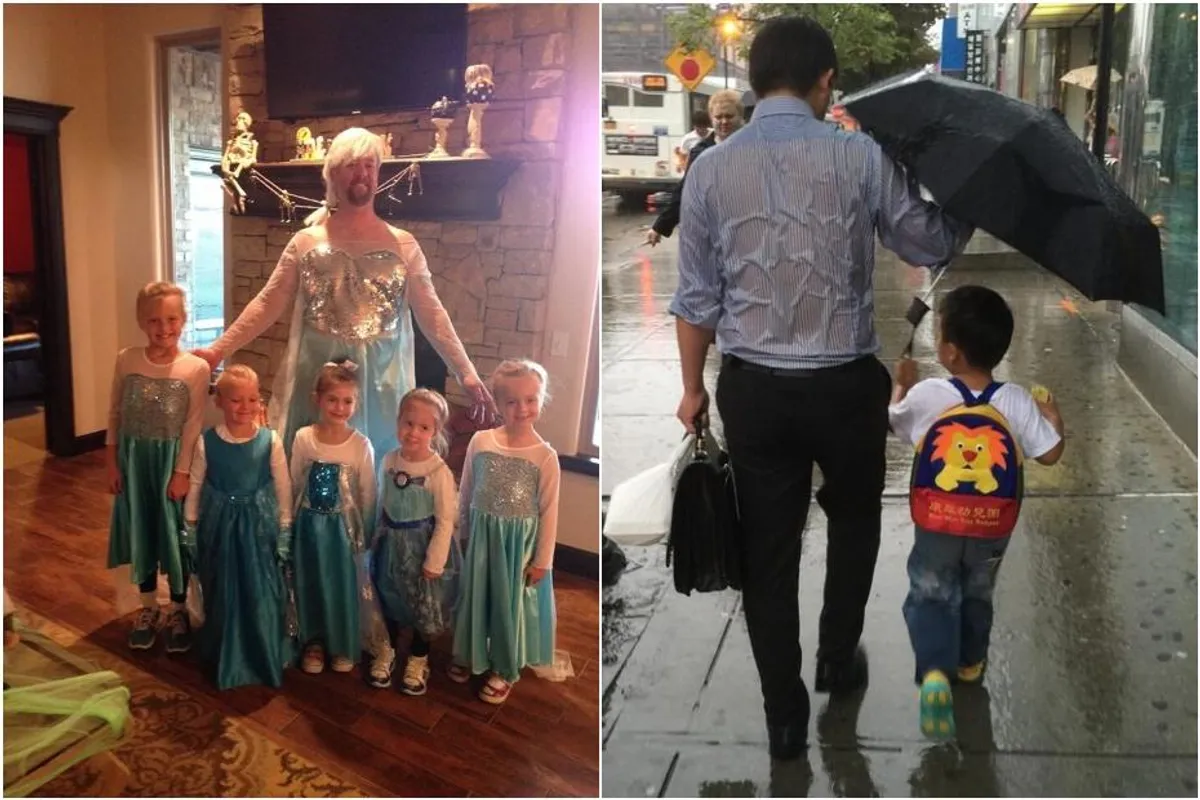 Očinstvo je jednako posebno i izazovno kao i majčinstvo. Tate, baš kao i mame, čine nevjerojatan posao - štite i podržavaju svoje mališane od prvog dana, gledaju ih kako odrastaju, puni sreće, ljubavi i ponosa. 

S obzirom postoji toliko divnih i brižnih očeva na svijetu, prikupile smo nekoliko onih koji najbolje pokazuju koliko duboka i snažna može biti očeva ljubav. Potpuno su nas raznježili!


Poveo je svoju kćer na maturu, a 18 godina kasnije - ona je povela njega
Since we're getting closer to fathers day. He took his daughter to his graduation, and 18 years later he proudly accompanied his daughter at her graduation. from r/pics
Dijete je uvijek na prvom jestu - bez obzira na okolnosti
'Moj brat prvi je doktorant u našoj obitelji. Moj tata nije mogao prestati plakati.'
My brother was the first to graduate with a Master's in my family. My dad couldn't stop crying. ?? from r/pics
'Moj tata umro je od raka kad sam imala 16, ali je unaprijed platio da do 21. rođendana svake godine dobivam cvijeće'
My dad passed away when I was 16 from cancer and before he died he pre payed flowers so i could receive them every year on my birthday. Well this is my 21st birthday flowers and the last. Miss you so much daddy. ?? pic.twitter.com/vSafKyB2uO
— Bailey Sellers (@SellersBailey) 24. studenoga 2017.
'Njegova je kćer preminula, a ovo je posljednja stvar koju mu je dala prije nesreće'
He tattooed it because his daughter passed away and it was the last thing she gave him before the accident.
Njezin tata otišao je s posla kako bi joj dostavio buket cvijeća u školu
My dad took time from his job to go to my sisters classroom and dropped off flowers wow she's gonna be so spoiled, this is the kind of father I look forward to being pic.twitter.com/5LjUDV2oc8
— steve the tool man?? (@steveng_03) 14. veljače 2018.
Tata pun ponosa pomaže svojoj kćeri s hula hopom
Dads can be the best from r/HumansBeingBros
Tata i kćer u kinu prije filma Pepeljuga
Tate uvijek pronađu kreativan način da zaštite svoju djecu od svih vremenskih uvjeta
'Moj prijatelj ima pet kćeri. Ovako izgleda njihova Noć vještica'
My friend has a lot of daughters. Dad level 9000 for Halloween this year
Tata na utakmici pokazuje slijepom sinu što se zbilja događa na terenu
Dad marking out on a small football pitch, with his blind son's hands, what's going on down on the actual pitch.
'Moj tata volontira kao Batman kako bi razveselio bolesnu djecu u bolnici'
My dad volunteering as Batman bringing joy to kids fighting cancer at a children's hospital. from r/HumansBeingBros
Škola je na Facebooku zamolila 50 očeva volontera za jedan događaj kako bi djeca bez očeva mogla uživati. Pojavilo ih se 600
BEST STORY OF THE DAY: South Dallas middle school started a "Breakfast with Dads" program but many dads couldn't make it and several students didn't have father figures. The school posted a Facebook request for 50 volunteer fathers... 600 fathers from all backgrounds showed up... pic.twitter.com/y7W9R3qFcs
— Jerica Phillips (@Jerica_Phillips) 4. siječnja 2018.